Special Zone
Laser lighting / Display /
Optical Wireless Power Transmission Zone
Cooperated by

Consortium of Visible Laser Diode Applications / Study Group of Optical Wireless Power Transmission, The Laser Society of Japan / Laser Display Technology Research Group, OSJ
Exhibit style
Table-Top Booth:W1980 × D1980 × H2700 mm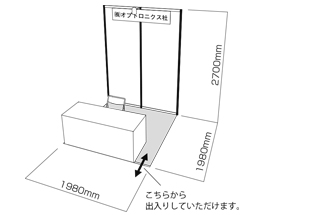 Table(W1800 × D600 × H700 mm)
Folding chair : x 1
Spotlight : x1
Company name board
Carpet
100V(200W)electrical outlet
* Additional components / features are available.
* Any additional electrical work can only be carried out by the organizer, the cost of which will be sent to the exhibitor.
* Please bear in mind electrical running costs.
Items on Display
Products related to laser lighting-display, optical wireless power supply.
Application
Items with an

*

are required.