For Exhibitors
Benefit to exhibit at OPIE (Questionnaire results 2023)
'Photonics' is the basic technology supporting various industries. Many of visitors playing key roles in photonics fields participate in OPIE every year.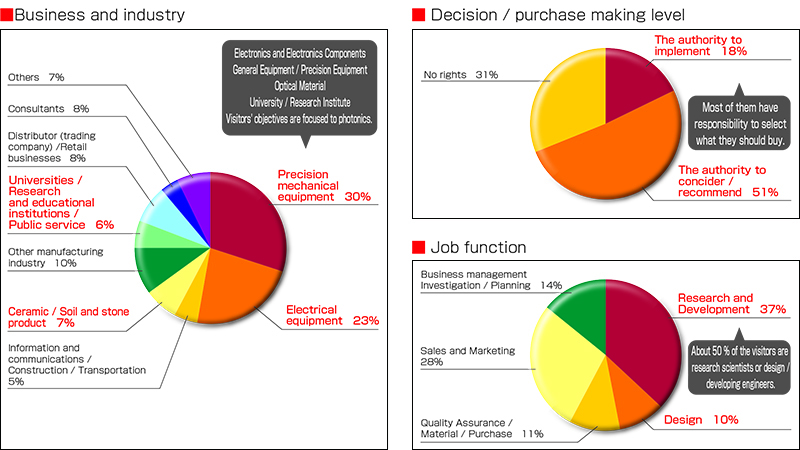 The quality of visitors is highly evaluated, and about 40% of exhibitors have acquired responsive leads on the spot, and 95% of exhibitors are conducting specific business negotiations.



OPIE is evolving year by year and provides more satisfaction to exhibitors.
OPIE is dedicated for optics/photonics with large scale of about 420 exhibitors who take significant and outstanding roles in their relevant fields. (2023 result)
All the exhibitors take significant role in photonics industry. No parallel-exhibition in other fields will be held with this show. All the visitors in OPIE have sole objective to see 'photonics'.
OPIE has strong relationship with OPIC which has known as one of the big academic conferences.
As technologies in photonics are always moving advance. Visitors are very keen to have fresh and up-to-date information for the research activities happing in major company / university in North America / Europe and new comers in Asian countries
The number of exhibitors from oversea countries like North America, Europe and Asia has been increasing for research engineers to attend OPIC, international academic conference. It is getting to be motivation for the visitors to investigate new cutting edge technologies.
OPIE offers new services to the exhibitors.
We will introduce 'Online Expo' to help the exhibitors promote their product after OPIE closes. The information of the exhibitors on the OPIE web page will be on 'Online Expo' (= virtual exhibition on the Web) and it will continue to help the promotion of the exhibitor's products for a half year.
If you try to find new persons in your company, we will advertise it on OPIE website. It will be catchy for the visitors.
We are also aiming that our exhibition can contribute to match "seeds" of exhibitors with "needs" of visitors. We are investigating implementations which can offer unique benefits to exhibitors. We will provide the information by emails and our website.