About OPIE
About 7 Expos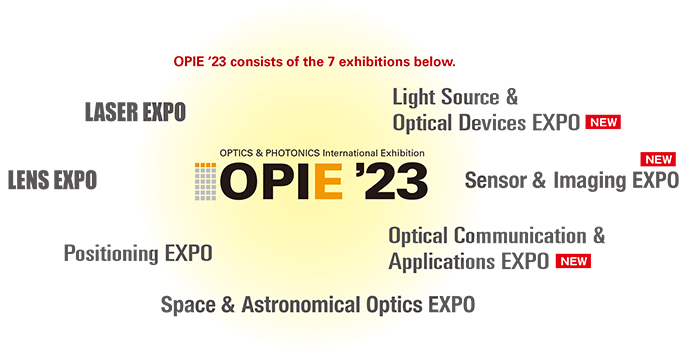 ■LASER EXPO

– From scientific to industrial applications / Comprehensive exhibition for laser technology –



Laser technology is used in a wide range of applications such as information communication, material processing and measurement, and the market is expanding. This comprehensive exhibition for laser technology, which brings together domestic and foreign laser products for research, development and production, is held with the aim of contributing to the sustainable development of laser technology.
As laser technology is expected to have the potential to create new innovations, Laser EXPO attracts many visitors every year. By fully demonstrating the potential of lasers, you can further strengthen your laser business.

■ Item on display ▶▶▶


Organizer

Laser Society of Japan

Laser EXPO Committee Chair

Kazuhisa Yamamoto(Osaka University)
【Special Zone】
・Laser lighting / Display / Optical wireless power supply zone
 Cooperated by:Consortium of Visible Laser Diode Applications / Study Group of Optical Wireless Power Transmission, The Laser Society of Japan / Laser Display Technology Research Group, OSJ
・Power Laser Forum Zone

■LENS EXPO

– A specialized exhibition gathering the latest technologies in lens design and manufacturing –



LENS EXPO is an exhibition where all kinds of products and services related to optical elements such as lenses, prisms, diffraction gratings, etc., optical design, prototyping, and manufacturing equipment gather.
Beyond 5G, automatic driving, optical quantum computers, and metaverse are all closely related to optical products. Optical elements are the essential components of such optical products, and the accuracy requirements for them are increasing year by year. At this exhibition, you will be able to accurately grasp the needs of visitors seeking solutions to these technological issues and link them to their business.

■ Item on display ▶▶▶


Organizer:Japan Photonics Council (NPO)
Planning committee (Applying)
Chair

Masato ShibuyaTokyo Polytechnic University

Committee

Katsuyuki AbeOlympus Corporation
Keisuke ArakiUtsunomiya University
Yukio OguraMicrooptics Group
Shigeru KawaiOpto E College Co., Ltd.
Kazuo KurodaUtsunomiya University
Takashi GenmaNikon Corporation
Tsutomu ShimuraThe University of Tokyo
Hirofumi TsuchidaTeam-Opt Corp
Takaaki MiyashitaNational Astronomical Observatory of Japan
Hiroshi MiyamaeTeam-Opt Corp
■Positioning EXPO

– Expanding applications for precision positioning, positioning, drones, and LiDAR –



This exhibition gathers not only positioning equipment for various FA lines, optical equipment, electronic component manufacturing processes and biotechnology research, but also positioning and control equipment for distribution centers and smart agriculture sites, and positioning detection equipment for safe operation of various vehicles, attracting attention to measurement-related products and positioning systems that require accuracy on the nano- and micro-scale order. The exhibition attracts attention to measurement-related products and positioning systems that require accuracy on the nano- and micro-scale order.
It is an effective platform for visitors to actually compare and contrast various products prior to developing or introducing their own equipment.

■ Item on display ▶▶▶


Organizer

OPTRONICS MAGAZINE

Planning cooperation (Applying)

Technical Committee of Ultra Precision Positioning of The Japan Society for Precision Engineering
■Space & Astronomical Optics EXPO

– Cutting-edge engineering technologies in space and astronomy –



This is a useful exhibition that provides engineers and researchers working in the field of space and astronomical optics with R&D tools and superior components and equipment. Supported by the National Astronomical Observatory of Japan (NAOJ) and the Japan Aerospace Exploration Agency (JAXA), the exhibition will also feature lectures by both organizations and related booths, attracting many interested visitors.
Japan's space-related budget will exceed 500 billion yen for the first time in 2022, and its future is also attracting attention from a security perspective. For space-related businesses, this exhibition is highly expected as a place where they can effectively promote their products.

■ Item on display ▶▶▶


Organizer

Japan Photonics Council (NPO)

Planning cooperation (Applying)

Japan Aerospace eXploration Agency, JAXA / National Astronomical Observatory of Japan, NAOJ
■Light Sources & Optical Devices EXPO【NEW】(Formerly IR+UV EXPO)

– From UV to Visible and IR –



This exhibition gathers photonics products from the ultraviolet to infrared and visible wavelengths, and is expected to showcase products for processing applications, analysis and measurement applications, etc. This exhibition will further expand the infrared and ultraviolet applied technologies that have been held in the past, and will also cover new light sources such as post-LED and organic EL, as well as terahertz wave related products to strongly encourage business matching.
Infrared-applied products range from materials in the infrared region to light sources, optical components, devices and systems for sensing and monitoring, and can appeal to educational and research institutions as well as industrial sectors seeking infrared applications. UV-applied products are also an area of much interest, with deep UV light sources, crystals and materials, and various measurement products in demand.

■ Item on display ▶▶▶


Organizer

The Optronics Co., Ltd.
Co-Organizer

Photonics division, The Japan Society of Applied Physics
■Sensor & Imaging EXPO【NEW】(Formerly Industrial Camera EXPO)

– Usable Sensors and Industrial Cameras for the AI and IoT Era –



The exhibition covers optical and imaging sensors, industrial cameras, and advanced imaging.
The market is rapidly expanding as sensors are introduced in all fields through the fusion of network and digital technologies, such as IoT, AI, and the "digital twin" that is expected to become popular in the future.
On the other hand, in the camera market including industrial applications, spectroscopic imaging has emerged as a result of technological progress, and the competition for development for industrial applications is now intensifying. The exhibition combining the two is highly synergistic and provides an effective opportunity for future business development.

■ Item on display ▶▶▶


Organizer

The Optronics Co., Ltd.
■Optical Communication & Applications EXPO【NEW】

– Devices and systems supporting high-capacity, high-speed, low-power-consumption communications will be exhibited.



Market conditions surrounding optical communications have changed dramatically, and in response to Beyond 5G, its applications are expected to spread to various industrial fields, including space infrastructure related to satellite communications, the mobility industry including automobiles, logistics and manufacturing, medicine, and entertainment. In addition, with the emergence of keywords such as DX and metaverse, communication technology will become increasingly important in accessing the virtual world, and the market is expected to expand significantly. The role of "optics" is to realize high-capacity, high-speed, low-power-consumption communications in these fields.
The "Optical Communication & Elemental Technologies & Applications Expo" aims to bring together the devices and systems that support these technologies, and to encourage sustained research and development of optoelectronic convergence technologies and innovative optical networking technologies and products.

■ Item on display ▶▶▶


Organizer

The Optronics Co., Ltd.

Sponsor

Photonic Internet Forum