For Visitors
Benefit to visit OPIE
OPIE is dedicated for optics/photonics with large scale of over 370 exhibitors
OPIE is one of the largest exhibitions in Japan specialized for the photonics industrial sector. It takes place at the end of April when a new fiscal year starts for most of companies and it has been regarded as the best opportunity for visitors to be here looking for "what's new this year" and trend of technology related with their research, development and design activity.
Various concurrent events for the industry trends at OPIE (2018 results)
SPIE(Photonics WEST Organizer) Keynote Presentation
Global photonics market size, trends, and hot topics in 2018
OSA(OFC、CLEO Organizer) Photonics Market Seminar
Optics Market Overview & Future Opportunities
CIOE Market Seminar
Overview and prospective on China's optoelectronic industry
Fraunhofer Photonic Research Cooperation Workshop
THE AMADA FOUNDATION | Grant Research Result Presentation [Part 2] Laser Processing
Space & Astronomical Optics EXPO Special Lectures (JAXA / National Astronomical Observatory)
Aqua local Area Network Study Group
Light / Laser Safety Seminar
JAPAN IMPORTERS ASSOCIATION OF LASERS & ELECTRO-OPTICS (JIAL) SEMINARS
Co-located Seminars
Exhibitor's Technical Presentation
The Laser Society of Japan Industry Award ceremony (4/26 (Thu) 11: 00 – )
Japan Laser Corporation 50th Anniversary Reception (4/25 (Wed) 17: 00 – )
OPIE'19 consists of the 6 Exhibitions
OPIE is the only trade show / exhibition that is dedicated for photonics
LASER EXPO
LENS EXPO
IR+UV EXPO
Industrial Camera & Advanced Imaging EXPO
Space & Astronomical Optics EXPO
Positioning EXPO
High satisfaction level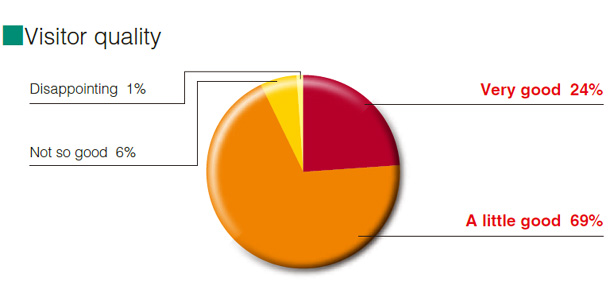 Nearly 90% of visitors were interested in gathering new products and technical information and 70% of the total was more than 'satisfied'.